The Junior League of Lake Charles, Inc. is proud to offer our "Done in a Day" program to lend a hand to your community event. Done in a Day is a committee that enables the League to assist community agencies which do not have a need for League volunteers on an ongoing basis, but may have a need to staff a one or two day special event or have a one-time need for extra volunteers.
JLLC Done in a Day volunteers respond to and reach out to our local community by providing trained volunteers to assist non-profit organizations with their special events. Community is our business – The JLLC has been committed to serving our local community and we welcome an opportunity to support your organization. We have trained volunteers ready to help.
NEED EXTRA HANDS?
To qualify for assistance from Done in a Day, your organization must meet the following criteria:
The event must be applicable to the League's mission, "The Junior League of Lake Charles, Inc., is an organization of women committed to promoting voluntarism, developing the potential of women and improving the community through the effective action and leadership of trained volunteers. Its purpose is exclusively educational and charitable."
JLLC members must not be directly involved in soliciting funds (receiving cash/payment or counting money) on behalf of your organization; if the event includes fundraising, it will only be considered if either:
· The JLLC founded the organization; or
· The organization is a community project partner for the current League year; or
· The organization received a TEACH or Brand out and Grow grant within the past 24 months.
Additionally, volunteers cannot handle or serve alcoholic beverages and the event cannot be held during the week of Mistletoe & Moss Holiday Market – the third week in November.
Click here to fill out the online application form for Done in a Day volunteers. The League requests a minimum of three-weeks advance notice prior to an event in order to allow the League to obtain the necessary League approvals.
The League cannot guarantee volunteers. Requests for volunteers primarily in the evenings or on weekends have a higher likelihood of being fulfilled, given the current makeup and availability of the Junior League membership.
Thank you for considering the Junior League of Lake Charles, Inc. as a source for dedicated, community minded volunteers. If you have any questions about Done in a day, please contact us via email.
Done In A Day
Supporting Literacy
The JLLC contributed to the CPSB Literacy Bingo Challenge by donating board games as prizes for the students who participated and completed their BINGO cards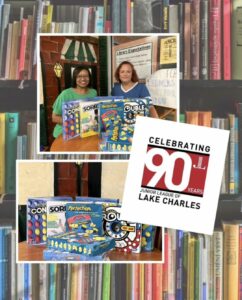 Headshots and Happy Hour
Pause for a Cause
Nursing Home Parade

Second Harvest Foods Events