Each year, the Provisionals (New Members) spend a year in training.  One of the opportunities they have is to plan and conduct a project of their choice that is consistent with the mission and vision of the Junior League of Lake Charles, Inc.
In the past, they have:
Coordinated a book drive for local schools after a hurricane
Partnered with community businesses for a public CPR training day
Created an ART SPACE at The Children's Museum
Conducted an Autism Awareness Day at the mall
Here is a look at the most recent Provisional Projects:
2016-2017:  The Provisionals redesigned the Big Brothers Big Sisters multi-use room.  The project included a complete overall for the facility's most used room.  The children are now use the room for arts and crafts, reading, pool, and a gathering spot for group meetings.
2015-2016:  The Provisionals updated the Mad Scientist Bubble Room at The Children's Museum.  The project included a massive paint refresh, mural design, wall decoration updates and equipment clean-up.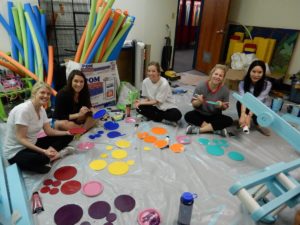 2014-2015:  The Provisionals refreshed ETC/Harbor House. The project included landscaping of the front and side entrances, decorate resident rooms, and power washed the basketball court.  Also a new entertainment center and desk was purchased and assembled for the day room.