Casino Night 2020 will not take place due to COVID-19. Please check back for updates regarding the status of Casino Night 2021!
Casino Night 2019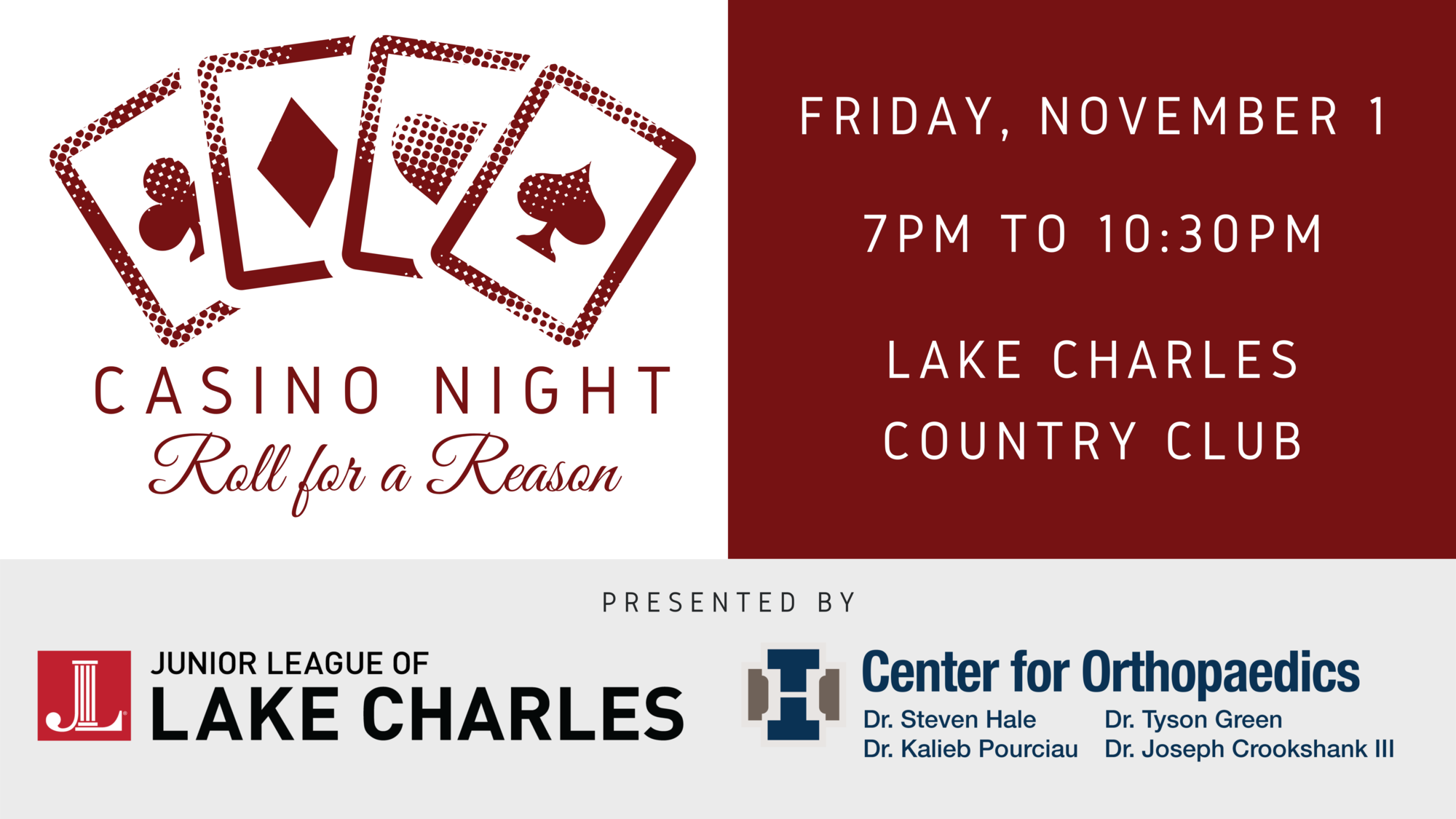 The Junior League of Lake Charles is excited to announce the newest event to The Lake Area taking place on Friday, November 1st from 7pm-10:30pm at the Lake Charles Country Club.
Tickets are $85 pp or $150 per couple (3+ tickets will be offered at the discounted price)  Ticket includes: entry into the event, unlimited dinner, unlimited signature drink, $100 in chips for table games, silent auction plus live entertainment. *ticket sales are limited*
Games include: Blackjack, Roulette, Craps, 3 Card Poker, and a Money Wheel  (tables operated by 3rd party vendor Poker Productions LLC)
Silent auction
Cash bar
Live Music by Kris Harper and Jenny Slaydon
Rules:
Every $100 donated/won gives you one raffle ticket to be entered in the drawing for one of the top 3 prices: George Rodrigue Blue Dog Print, Louis Vuitton Neverfull MM with matching wallet, L'Auberge Getaway (subject to change).
The single person with the largest earnings at the end of the night wins the top prize!
The bank will be open from 7-9:30. The bank will only be used for additional chip buy in by exchanging cash, credit, or check to chips (to be used that night only)
Cashing out will be from 9:30-10. 1 raffle ticket will be exchanged for every $100 in chips. No rounding. Donation can be made to complete earnings in exchange for another raffle ticket.
Once the bank is closed, the raffles will be pulled, and silent auction winners announced.
**This event is 21+**
Timeline:
· 7:00pm Doors Open/Gaming Begins/Buffet Available/Silent Auction starts/ Bank open
· 9:25pm Bank closes
· 9:30pm Gaming Ends / Bank Closes/ Cash Out Begins
· 10:00pm Silent Auction Closes / Cash Out Closes
· 10:15pm Grand Prize Winner Announced / Raffle's Drawn