American Girl Doll Project
In March 2015, the Junior League of Lake Charles sponsored the Calcasieu Parish Library's new collection of American Girl® dolls, books, and accessories.  After a successful kick-off event, the collection has risen to peak popularity at all of the library branches.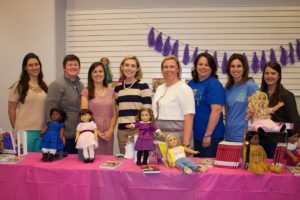 A chance to bring home an American Doll is a unique attraction.  The American Doll program has continued to be an effective draw for local children to the Calcasieu Parsh Public Libraries.  The league-sponsored collection of American Girl® dolls maintains a waiting list for checkout.  The children who check them out get a taste of American history, told from the perspective of a young girl, in the books that are included in the doll travel bags and available to check out at the library branches.  Literacy development is further supported by journaling in the included notebook.  The stories and memories logged in the last year and a half are not only heartwarming but are further evidence of this program's value.
Starting in April 2016, the Junior League of Lake Charles expanded its partnership with the Calcasieu Parish Public Libraries with a new, literacy-focused program: Read to Your Doll.  This rotating, monthly program is hosted by the Literacy Committee at nearly every library branch in the parish.  It was inspired by the Calcasieu Parish Public Library's existing "Fun with Fideaux" events.  Programs such as these allow young children to gain confidence reading aloud to a nonjudgemental audience.  Dolls and toys offer an alternative audience and are widely available to most children.  These events are for everyone!  Boys and girls of all ages are welcomed and invited to bring any doll, toy, or stuffed animal they wish.  The program is an extension of the American Girl® doll partnership with the library but is meant to serve a greater purpose and meet the needs of a wider audience.  The Literacy Committee begins each event by reading a story aloud, helps facilitate participating children's individual doll reading time, offers light refreshments, and provides coloring sheets.  League volunteers have several American Girl® dolls on hand at each event for children to read to if they wish.
Dates, times and library locations for the Read to Your Doll programs can be found on the Junior League calendar and at https://calcasieulibrary.org/events.