Fit Kids Program
This program is designed to help address the urgent issues surrounding childhood obesity and poor nutrition.
In February of 2006, Junior Leagues from four countries implemented an international initiative called Junior Leagues' Kids in the Kitchen, designed to help communities address the urgent issues surrounding childhood obesity and poor nutrition. In its first year, more than 200 Junior Leagues participated in the program and provided educational initiatives for children and families in their communities.
Most recently, the Junior League of Lake Charles, Inc. has collaborated with the Partnership for a Healthier SWLA to begin the FIT KIDS program. The program empowers children to reverse the growth of childhood obesity and its associated health issues. Students gain a basic understanding of nutrition which includes portion plate, label reading, recipes for healthy snacks, and finding healthy items in a grocery store. They also learn about fitness concepts including warm-up, cool down, cardio endurance, strength, wellness, and workout tips.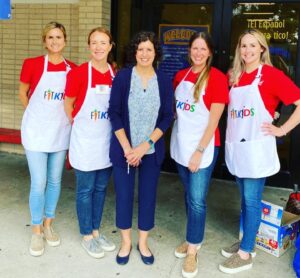 During the 2019-2020 Fit Kids Program, McNeese State University Athletics graciously donated their time and enthusiasm to the Fit Kids Program to model and encourage physical fitness and nutrition to our youth in SWLA.

Through these impactful moments, we have a strong chance to have a more fit and healthier SWLA.
Kids in Cool Shoes (KICS)
The Junior League of Lake Charles discovered after extensive research and consideration that children who attend elementary schools and preschools in high-need regions of our community have a need for new shoes. We discovered that a lot of kids wear shoes that are either too tiny, too big, or completely worn out. According to the charity organization Shoes That Fit, receiving a new pair of shoes increases classroom behavior by 63%, physical activity involvement by 72%, and school attendance by 44%.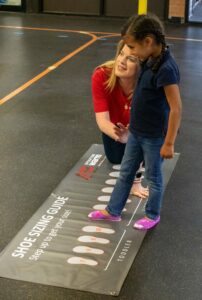 The goal is to give kids a brand-new pair of well-fitting, high-quality sneakers so they may engage in physical exercise and stay healthy. The Kids in Shoes (KICS) program, which currently offers new athletic shoes for children in grades PK-3rd grade at high-need schools in Calcasieu parish, was implemented by the JLLC in 2022 and is the newest program to be added to the Healthy Families-Fit Kids Committee.