Branch Out and Grow Scholarships
New in 2018, The Junior League of Lake Charles, Inc.'s (JLLC) offered an 85th Anniversary Grant which celebrated our 85th year history of forgoing positive partnerships with the community of Southwest Louisiana by inviting the community to participate in the selection of one (1) applicant to receive a $5,000 grant award. Congratulations to the recipient of this grant, Prien Lake Elementary and teacher Amy Ogea. The winning grant was titles "Breathe Life into Our Bibliotheque" and the grant funds will be used to set up mini "French" libraries within the French Immersion teacher's classrooms at Prien Lake Elementary.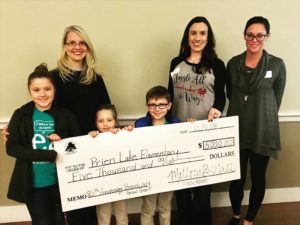 Left to right: 
Madelyn Maricle, Amy Ogea – Grant winner, Lucy Ogea, Philip Maricle, Klancy Leonard – JLLC Grants & Scholarships Chair and
Mallory Wall -JLLC President 
The Junior League of Lake Charles, Inc.'s Branch Out and Grow scholarship applications are now available! Five $500 scholarships will be awarded to young women graduating high school this year. One $500 scholarship will be awarded to a woman who has returned to school to further her education. These women should reside in Allen, Beauregard, Calcasieu, Cameron, or Jeff Davis parishes and exhibit a strong commitment to voluntarism.
Applications are due by Friday, March 1, 2019. Please contact the Grants and Scholarships committee with any questions at grants_scholarships@jllc.net or (337) 526-5406.  Click here for the high school application.  Click here for the non-traditional student application.
Branch Out and Grow Grants
The Junior League of Lake Charles, Inc.'s Branch Out and Grow educational grant program supports excellence in teaching by awarding grants for innovative projects that otherwise would not be provided for in school budgets and which fit within The Junior League of Lake Charles, Inc.'s vision of supporting a more confident, healthy and educated community. This program consists of grant awards in amounts ranging from $500 – $2,500; grant requests may also include a request for volunteer hours from the Junior League of Lake Charles, Inc.
In 2017, the Junior League of Lake Charles, Inc., awarded over $17,000 in grant funds to teachers in the five-parish area. The 2017 Branch Out and Grow grant recipients were:
"Breaking Out" of the Traditional Classroom: Real World Problem Solving, Hackberry High School, Paulette Campbell, 7th-12th, Math
Funding provided to create a game where students must solve clues given in the form of real world math problems. Students who solve the math problems get codes that are used to open a locked box and win the game.
Beat It!!, Prien Lake Elementary School, Paula Bruchhaus, Pre-K-5th, PE
Funding to purchase Drumtastic Kit and music for PE workouts using drums.
One Girl Book Club, Brentwood Elementary, Emily Williams, 3rd-5th, Counseling
Funding provided to purchase books and supplies for a girls' book club with a focus on bullying and friendship skills.
Science Technology Engineering Mathematics (STEM) K'NEX Projects, A.A. Nelson Elementary, Lydia Smith, Math
Funding provided to purchase K'NEX building sets to allow students to apply STEM concepts to real projects.
When Children Play, The World Wins, T.S. Cooley Elementary Magnet, Mike Wrobel, K-5th, PE
Funding to purchase game stencils to be painted on school playground for use during recess and PE to encourage more creative play.
A Sweet Start to Cooking, S.P. Arnett, Connie Dronette, 6th-8th, Special Education
Funding for program where special needs students will learn life skills by learning to cook basic healthy snacks.
Student's "Living Classroom", Vinton Elementary, Homer Williams III, Pre-K-5th, PE
Funding to purchase materials to build raised garden beds for students to grow organic produce and learn about gardening and healthy eating.
Introducing Robotics in Physical Science Classes, St. Louis Catholic High, Cathy Richard, 10th, Physical Science
Funding to purchase Robotic Arm Edge kits for use during physical science engineering unit.
The Future of Percussion Performance: Incorporating Technology into the Modern Percussion Ensemble, Episcopal Day School, Jeremy Boudreaux, 5th-8th, Band
Funding to purchase Pearl Mallet Station to introduce students to the marimba percussion instrument.
No Limits to Literacy, Pediatrust, Angela Evans and Megan Musso, Infant to Preschool, Literacy
Provide hands-on learning for children across the developmental spectrum fostering a love of reading through dramatic play and storybook activities.
Social Skills Group, Our Lady Queen of Heaven, Heather Lindsay and Adrienne Link, Pre-K-4th, Social Group
Funds to purchase materials to help with social skills intervention.
It is a "Wonder"ful Life-Be You!, Henry Heights Elementary, Pamela Dupre, K-5th, Social Skills
Funding to purchase Wonder and Only One You for studying and create a rock garden showing each child's unique difference to reduce bullying.
Growing Minds, Growing Gardens, DeQuincy Elementary, Gabrielle Miller, 3rd-4th, Multiple Subjects
Funding provided to create a school garden for use in teaching students about healthy eating and the science of growing plants.
Robotics and Coding Middle School Enrichment Course Equipment, Immaculate Conception Cathedral School, Blair Tadlock, 6th-8th, STEM/Computer Science
Funding provided to purchase equipment for a middle school robotics enrichment class.
Periaktoi-Simple Scene Changes, Immaculate Conception Cathedral School, Virginia Kate Jessen, Pre-K-8th, Musical Theater
Funding provided to purchase materials to build movable scenery to use in school musical productions and other school functions.
Modeling Chemistry through LEGO Learning, Sulphur High, Jeanne Lejeune, 10th-11th, Chemistry
Funding provided to purchase LEGO atoms and molecules sets for use in demonstrating chemistry concepts.