Branch Out and Grow Grants
The Junior League of Lake Charles, Inc.'s Branch Out and Grow educational grant program supports excellence in teaching by awarding grants for innovative projects that otherwise would not be provided for in school budgets and which fit within the Junior League of Lake Charles, Inc.'s vision of supporting a more confident, healthy and educated community. This program consists of grant awards in amounts ranging from $500 – $2,500; grant requests may also include a request for volunteer hours from the Junior League of Lake Charles, Inc. The deadline for application is Friday, November 10, 2017. Click here to access the grant application. For more information, contact grants_scholarships@jllc.net.
In 2016, the Junior League of Lake Charles, Inc., awarded over $15,000 in grant funds to teachers in the five-parish area. The 2016 Branch Out and Grow grant recipients were:
Task Boxes, East Beauregard Elementary School, Betty Sykes, K-10th, Significant Disabilities Special Education
Task boxes help students work on fine motor skills, matching, put in/on, sorting, stacking, following directions, and beginning work skills. The boxes are used for students who have significant disabilities to help them learn vocational skills.
Hearts for Hope, East Beauregard Elementary School, Penny Sweat, 1-5, Counseling
Hearts for Hope provides a place for children dealing with grief to meet with other students and do crafts to memorialize their loved ones. It offers the children a safe place to grieve and learn from other students going through similar experiences.
Ready, Set, Grow!, Our Lady Immaculate School, Mary Ann Simpson and Amy Hanks, Pre-K 3 and Pre-K 4, Science/Social Living
Funding for this project was to create a school garden for students to learn about how to grow and care for a garden.
Rigby PM Readers, K. R. Hanchey Elementary School, Kayley Jantz, K, Reading
Rigby PM Readers were purchased to create a leveled library giving students access to a variety of stories for different skill levels. These readers are also used in small group instruction.
MakerSpace Kits, Episcopal Day School, Paula Clemmons and Kathy Grubb, 3rd-8th, Research and Technology
MakerSpace Kits provide a variety of hands-on science, technology, engineering, art, and mathematical building materials for students to create projects. The students can design, build and collaborate on teams to see their ideas come to life.
A Grab Bag of Guidance, Prien Lake Elementary, Christy Blalock Pre-K – 5th, Counseling
Books were purchased to use bibliotherapy and literacy to reach a variety of social and emotional needs of students.
Lights, Camera, Green Screen Action, Barbe High School, Marcie Rome, 9th-12th, Art
Funding for this project helped purchase a green screen kit, hardware, and apps for students to utilize, These tools will teach foundational skills of videography, video editing, and video production.
A Picture is Worth 1,000 Words, T. S. Cooley Magnet School, Annette Larsen, K-5th, Music
A Key Note Visualizer was purchased to help students get more out of their music instruction time. Students can see the projection of an instructor's hand placement on the main keyboard as it is played.
Ten Marks Premium, Frasch Elementary School, Stephanie Hebert,3rd, Math
The TenMarks math program is used to assess math skills, identify gaps, and help create assignments for specific student needs.
Learning on the GO with SPHERO, S. P. Arnett Middle School, Kaci Vinson, 6th-8th, Computer Skills and Typing
SPHERO robots are used to help students learn computer programming skills. The robots can be used with iPads that are already part of the classroom. Students learn how to code and program while watching the robot respond to commands.
Junior High Needs Classroom Libraries!, Singer High School, Corie Baudoindajoux, 6th-8th, English Language Arts
Funds from this grant were used to purchase classroom library sets for the junior high classes. Students are able to check out books from the classroom libraries to read for enjoyment.
Spanish through Reading and Storytelling, Episcopal Day School, Chantal Castille, K-4th, Spanish
Spanish story books were purchased to engage students in stories written in Spanish to immerse them in the language and increase their proficiency.
Running Away with Your Imagination, Pearl Watson Elementary School, Lisa Moore, 1st, English Language Arts
Students can use virtual reality headsets and iPods to take virtual reality field trips. Students will learn how to access the field trip lessons and see famous landmarks around the world.
STEMulating the Future, Barbe Elementary School, Terri Miller, 4th, Math and Science
Virtual reality headsets are used with iPods will allow students to explore coral reefs, the surface of Mars, inside of the human body, or weather.
Teaching 3D Fundamentals to Advanced STEM Students, South Beauregard High School, Sharon Chaumont, 8th-12th, Business
Funds from this grant helped purchase a 3D printer and cartridges for students to create robot parts, computer replacement parts, and protective coverings and casings for computer accessories.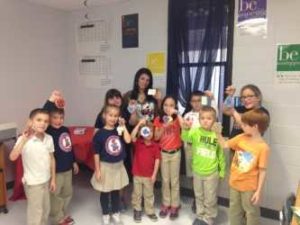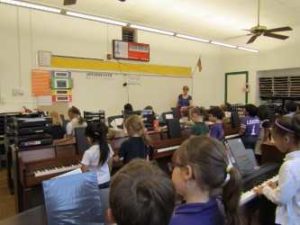 Pictured are students from East Beauregard Elementary School with the Hearts for Hope project (left) and T.S. Cooley Elementary School students using the key note visualizer in music class (right).
Branch Out and Grow Scholarships
The Branch Out and Grow scholarship program offers scholarships to young women graduating from high school in the five-parish area who exhibit an outstanding commitment to voluntarism. The application process includes submission of a personal essay describing her commitment to volunteering, a listing of volunteer activities, recommendations from one academic reference and one volunteer supervisor, and a transcript. The program also awards a non-traditional student scholarship. This recipient is a woman who has taken a break from schooling, but is returning to further her education. The application includes a personal essay describing her reasons for furthering her education, a transcript, work history, volunteer activities, and a letter of recommendation. The scholarship applications will be available in January 2018.
In May 2017, the Junior League of Lake Charles, Inc., awarded $500 scholarships to the following graduating high school seniors and non-traditional student:
Mikala Burkes, DeRidder High School
Avrie Celestine, Barbe High School
Moriah King, Washington-Marion Magnet High School
Emma Broussard, Lake Arthur High School
Abigail Hebert, Welsh High School
Jacqueline Limbrick, Sowela Technical Community College