Community Outreach Committee
That's My Bag
Foster Care Bags
This program was initiated to design, create and distribute personal care packages for children recently removed from their homes or newly placed in foster care.
The JLLC provides approximately 200 bags each year
The bags are distributed through local and regional offices of the Department of Children and Family Services
What's in that bag?
Each duffel bag, which has a detachable backpack & overnight case, is stuffed with much-needed toiletries plus items (diapers, bottles, clothes, games, books, footballs, stuffed animals, etc.) that will help kids smile during a tough transition.
The children remain nameless & faceless to the JLLC but hold a special place in our hearts.
Food Bags
Across Louisiana, programs provide free snacks and meals to low-income households throughout the community during after-school hours to reach and feed more children facing hunger and food insecurity.
In recent years, the Junior League of Lake Charles has become more aware of the ever-growing need for additional food sustenance during holiday breaks. Since many children in our community qualify for free or reduced breakfast and lunch during the school time, what happens to those students during holiday breaks when they no longer have access to those meals? Through our That's My Bag's Food Bag program, the Junior League of Lake Charles helps to provide children with a snack bag full of nutritious, child-friendly items to help curb their hunger during those long periods until they can receive those meals from school. Each year, JLLC distributes over 2,000 Food Bags to schools across Calcasieu Parish over Thanksgiving, Christmas, and Easter breaks.
Women's Shelter Baskets
Hygiene baskets include soap, towels, toothpaste, toothbrush, shampoo, conditioner, sanitary napkins, etc.
These baskets are given to the Women's Shelter to help survivors as they empower survivors to move forward with their lives safely.
Angel Tree Donations
Each November, the Community Outreach Committee sets up an Angel Tree at our General Meeting.
The tree contains angel ornaments with a specific gift request listed on each one that our members pick from the tree and purchase.  The gifts range from board games, movies, sporting equipment, and journals to clothing and household items.  The Angel Tree helps provide Christmas gifts for hundreds of children and young adults around southwest Louisiana each year. This program benefits foster children in the Court Appointed Special Advocates (CASA) program as well as the youth residing at the Educational and Treatment Council's (ETC) Harbour House and the Transitional Living Programs. 
This has become a true family project with many of our members including their own children in the shopping experience.  It is a wonderful way to teach the meaning of giving back during the holiday season.
Youth Shelter Events
Several times throughout the year, the Community Outreach Committee makes visits to the Educational and Treatment Council's (ETC) Harbour House, an emergency shelter for children ages 10-17, and ETC's Transitional Living Program, a scattered site and supervised apartment housing for ages 16-22.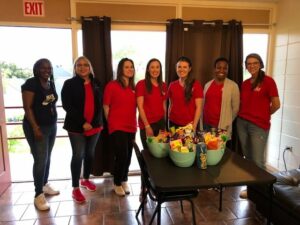 Membership spends time talking to the youth as well as bringing meals, hosting events and activities as well as delivering gifts for Christmas through our Angel Tree program. This is a very special time that helps our youth develop permanent connections with others while building skills that allow them to become independent, self-sufficient, and contributing members of society.
Food Pantries
These pantries are set up around the city and stocked with basic necessities for those in need, such as socks, deodorant, canned goods, toothbrushes, and toothpaste.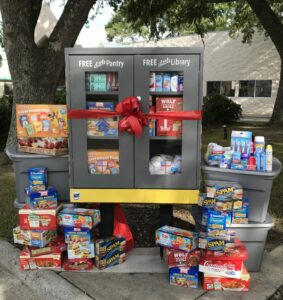 There are currently three Free Little Pantries in Lake Charles that JLLC services:
St. Michael and All Angels Episcopal Church. 123 W Sale Rd, Lake Charles, LA 70605. 

To get more information about this location, you can call 337-477-1881

Zion Tabernacle Baptist Church. 910 N Shattuck St, Lake Charles, LA 70601. 

To get more information about this location, you can call 337-436-6627

Starlight Baptist Church, 1523 4th Ave, Lake Charles, LA 70601.

To get more information about this location, you can call 3

37-

436-2757