Provisional membership consists of an introductory year of training. Currently, our provisional members participate in a mini placement toward the end of their initial year of membership on various committees. They can contribute to the league in a meaningful, helpful way. In the past, provisional members have planned various projects that have positively impacted the local community and support the mission of our organization.
In the past, provisional members have impacted the community through various projects:
Coordinated a book drive for local schools after a hurricane
Partnered with community businesses for a public CPR training day
Created an ART SPACE at The Children's Museum
Conducted an Autism Awareness Day at the mall
2016-2017:  The Provisionals redesigned the Big Brothers Big Sisters multi-use room.  The project included a complete overall for the facility's most used room.  The children are now use the room for arts and crafts, reading, pool, and a gathering spot for group meetings.
2015-2016:  The Provisionals updated the Mad Scientist Bubble Room at The Children's Museum.  The project included a massive paint refresh, mural design, wall decoration updates and equipment clean-up.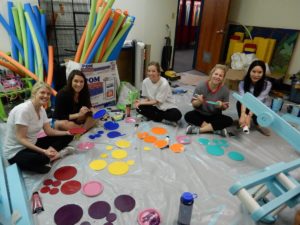 2014-2015:  The Provisionals refreshed ETC/Harbor House. The project included landscaping of the front and side entrances, decorate resident rooms, and power washed the basketball court.  Also a new entertainment center and desk was purchased and assembled for the day room.